GLR Spotlight is an interview series featuring Matchmakers, Dating Coaches & Relationship Experts

Global Love Report – March 31, 2021
Interviewed by Derry Rasyid
GLR Spotlight was created to feature some of our industry peers as a way for our community to get to know one another – Learn from what has worked successfully, as well as gain different perspectives and insights into various business strategies. We hope to continuously grow as an industry together by sharing these best practices with everyone!
---
About
Ksenia Droben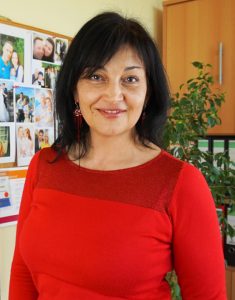 ---
GLR: Hi Ksenia! Please tell us a bit more about yourself and your company!
KD: My matchmaking company was founded in Saint Petersburg, Russia in 1998. Today we run 4 offices; St. Petersburg in Russia, Kiev in Ukraine, Heidelberg in Germany, and London, UK. Every year we have 100 to 150 client weddings and 10 to 12 international single events with up to 200 guests. We provide different coaching programs for singles covering topics like science-based dating, video dating, and understanding intercultural differences. During my career, I have featured in many German TV Shows ("Traumfrau gesucht", TAFF, AKTE etc.)
GLR: What led you to feel that you wanted to pursue a career helping singles?
KD: It was an accident. I finished my studies at the Institute of Foreign Languages in Russia and searched for work as a translator. I saw an advert from one German matchmaker, searching for a translator in Saint Petersburg, to guide their clients. I sent my CV but didn't get any answer. However, I was now intrigued with this profession and so I found the addresses of 5 other similar German matchmakers and sent my CV to them. Nobody answered. I then searched all the newspapers and found 20 more German matchmakers and sent my CV to them. 5 answered and I started working with them. During this time I started building up my own database and eventually rented an office and hired an assistant. This was 18 years ago and she is still working with me. We then moved to a bigger office and hired more matchmakers. Now I cannot imagine doing any other job.
GLR: Do you have any unique stories about working in this industry?
KD: One of my first male clients taught me a lot, he was very nice and flirty at his dates even if he didn't like the girl. I asked him why he paid so much attention to the girls when the normal friendly conversation would be enough. He looked at me and said that he is responsible for their future. If these girls don't like his behavior, they might think all German men are impolite, and this can impact the girl's life. Even when dating somebody we are partly responsible for their future. I always learn from my clients. I launched the single parties in Germany only, women asked me why not in Russia. So I organized single events in Russia. Then women asked me, why not in Ukraine, so I organized Ukrainian single events. Then men asked, why not other parts of Europe, so I organized trips to Finland. I am always listening to and acting on the feedback from my clients.
The world has really changed because of Coronavirus and we have had to change with it. We moved our events online. At first, we had women ask questions about men and men asked questions about women. We have now progressed to Round Table events where they can ask the questions directly.
GLR: Do you have any words of encouragement or reminders for existing Matchmakers/Dating Coaches & newcomers?
KD: Matchmaking is constantly changing together with our clients, so I would recommend that you always be open to trying new ideas. E.g. new apps, new programs, new ways to explain complicated things.
I would recommend that you only work with clients that you feel you can work with. If your intuition is shouting 'no', listen to it!
 I needed a lot of time to get used to this way of working myself, but you must eventually realize, you are not able to help everybody. No matter how hard you try and how many sleepless nights you have, there are many people you just cannot help. So be comfortable with your inner voice and don't try to save the world.
GLR: Thank you Ksenia! Last question – How do you feel about collaborating with other matchmakers and dating coaches?
KD: Personally, I know many matchmakers who I've met over the years, a lot at the several matchmaking conferences I've attended. My own database is quite big (about 2000 men mostly from Germany, Austria, Switzerland, and about 4000 women mostly from Russia and Ukraine, but also worldwide). Because of this quite specific niche, there aren't so many opportunities to cooperate with other matchmakers.
However, this year I have, in collaboration with other matchmakers, organized 5 video dates with clients in the states, 2 face-to-face dates in the UK, 3 matches in Germany, and 1 in Switzerland.