GLR Spotlight is an interview series featuring Matchmakers, Dating Coaches & Relationship Experts

Global Love Report – April 14, 2021
Interview covered by Derry Rasyid & written by Adrina Ong
GLR Spotlight was created to feature some of our industry peers as a way for our community to get to know one another – Learn from what has worked successfully, as well as gain different perspectives and insights into various business strategies. We hope to continuously grow as an industry together by sharing these best practices with everyone!
---
About Svetlana Mukha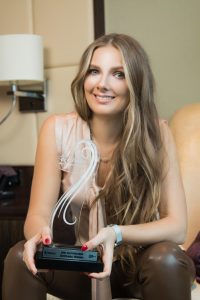 Svetlana Mukha is a leading Matchmaker and the Founder of boutique matchmaking company, Diolli.com. She has won notable awards such as Best Matchmaker by iDate Awards' 2016 & The Entrepreneur of the year 2017 by Euro Dating Awards. A fun fact about Svetlana is that she has visited 40+ countries, and can speak fluently in Russian, Ukrainian, English, and German! She has also spent 7 years learning Mandarin and can speak conversational French. We're excited to hear her fascinating background and experience in this industry! 

---
GLR: Hi, Svetlana! Please tell us a bit more about yourself and your company!
Svetlana Mukha (SM): Diolli.com is a boutique matchmaking service founded in 2008. We work with Slavic singles who want to date Slavic singles. Many of our male clients have eastern European roots, which means their parents or grandparents have relocated from the Soviet Union to the USA, Canada, Israel, or Germany. Also, we work with gentlemen who are interested in Eastern European culture, are learning Russian and/or Ukrainian, and want to date a beautiful Slavic lady.
All our clients are really adventurous and romantic because the whole idea to cross the ocean or half of Europe to go out on dates is very romantic. Our clients want to live through the most romantic adventure of their lives! Over the 12+ years in premium matchmaking, we have created more than 130 official marriages and now in Australia, China, Japan, Russian, UK, Canada, Germany, France, Portugal, USA, Israel, Greece, Sweden, and many other countries, there are beautiful international couples whom we have helped to find each other. Diolli.com includes a team of 11 people, including two professional psychologists, a professional video operator, two sales-managers, a marketer, web-designer, driver, client-manager, recruiter, and matchmaker – but we call all of them CUPIDS.
GLR: What would you say your niche market is?
SM: Premium international dating and Slavic dating. We work with gentlemen as paying clients and women as free members. We also host multiple psychological and coaching events and training programs for ladies.
GLR: How did you start pursuing a career helping singles? What led you to feel that you wanted to help singles?
SM: Before founding Diolli.com I have worked at a dating company in Kiev, Ukraine. I had fallen in love with the idea that you can choose the best from different cultures and bring it into your relationship. I was always passionate about traveling and exploring new cultures, learning foreign languages and traditions so I thought it would be fun and interesting to work with like-minded singles who, just like me, believe that all the borders are just in your heart and your head and love truly has no borders and frames.
I am lucky to work with exceptional, truly open-minded, cosmopolitan, well-traveled, romantic singles who love traveling and mixing cultures, who just like me believe that international couples have more fun and mixed babies are the cutest.
GLR: Tell us your most memorable story working in this industry!
SM: I have written two books of such stories, but they are in the Russian language. I believe my third book will be in English and will be written for a male audience. I also love sharing dating stories on our YouTube channels. And we have 375 videos on one channel and 189 on the other.
The recent story that I can think of is about a couple we have introduced before the lockdown. Right before the lockdown they got engaged! The gentleman is from Australia and as you know right now, he can't leave Australia and she (even as a fiancé) can't enter Australia. They are waiting till the lockdown will be over and are very creative about their relationship. For the gentleman's birthday, his fiancé has learned a song that he really likes, and she video called him and sang that song while wearing the dress she was wearing on their first date. Also, she has learned how to bake and every 2 or 3 weeks she brings a beautiful cake to our office to have tea and coffee with us and get some support while she waits.
Another story that always inspires me is about my ex-client from New York. He was 47 when we started working with him. He was never married and didn't have kids but really wanted to have a family. His brother and sister both have kids and families and all his friends have families too. My client is a very kind, sweet guy, but he was overeating, and because he worked as a programmer – he was sitting in front of the computer all the time. I promised him that I would sign him as a client only after he loses 10 kilos. He then hired a nutritionist and by the time he called me again, he had already lost 11 kilos! We have worked with him for 5 months on his dating and flirting skills and though he has sabotaged his first dates he has managed to win the heart of a really smart and beautiful 37 years old accountant. She was divorced and had a small kid from the first marriage. When we introduced them, the chemistry was so strong – it felt like you could touch it.
They have been happily married for 6 years now. They have two kids together and have moved out of New York for a more relaxed life. They had invited our whole team to their wedding and unlike many couples who claim they have met "in the museum" this couple was proud that the team of cupids had introduced them. It looked like the whole family knew me, Svetlana their matchmaker.
GLR: Thanks for two great stories, Svetlana! What would your best piece of encouragement be for fellow Matchmakers, Dating Coaches, and newcomers to this industry?
SM: To all new cupids: Try to learn from the best. It is not a shame or a crime to reach out to an experienced colleague and to ask for advice or inspiration. The whole industry will benefit if there will be more passionate truly professional cupids. Being a professional cupid is not easy and requires lots of passion and patience. Don't forget to attend New York gatherings for inspiration and new knowledge!
GLR: Never be too afraid of asking for advice – We love that! Thanks for sharing! We've come to our last question – Have you collaborated with other matchmakers and dating coaches before, and how was your experience?
SM: Since we are very niche, we don't do much collaboration in the traditional sense – it is hard for us to ask for matches or really to refer clients because very few matchmakers work in the premium international dating segment. However, we love collaborating in the sense of exchanging experiences and sharing knowledge. We love learning new practices from our colleges, we love getting inspiration.