GLR Spotlight is an interview series featuring Matchmakers, Dating Coaches & Relationship Experts

Global Love Report – September 20, 2023
Interviewed by Global Love Report
GLR Spotlight was created to feature some of our industry peers as a way for our community to get to know one another. Learn from what has worked successfully, as well as gain different perspectives and insights into various business strategies. We hope to continuously grow as an industry together by sharing these best practices with everyone!
---
About Angela Weaver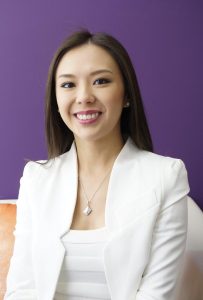 Meet Angela Weaver, freshly certified as a Science-based Date and Relationship Coach! As the distinguished Head Coach at Lunch Actually, in this interview, Angela talks about her passion for helping people navigate the complexities of relationships and also shares her insights as a certified Date and Relationship Coach. Previously, Angela worked in Sales at Marriott International in Hong Kong and was a Senior Advertising Executive for China Daily. 

---
GLR Interview
Global Love Report (GLR): What made you decide to become a dating and relationship coach? 
Angela Weaver (AW): I became a dating and relationship coach because of my passion for helping people navigate the complexities of love and relationships.
GLR: How do you think singles will benefit from a matchmaker with coaching skills? 
AW: Singles can benefit from a Dating coach/matchmaker with coaching skills by receiving personalized guidance, emotional support, and strategies to improve their dating experiences and find meaningful connections.
GLR: What's something new that you've learned that you're excited to implement in your work?
AW: I particularly value the "Identifying your personal trigger" technique as it enhances our coaching abilities and allows us to create effective coping strategies for clients.
GLR: What's something that you learned from the course that surprised you?
AW: I was surprised by the practicality and depth of the coaching tools and skills Dr. Terri provided in the course, along with her thorough explanations and numerous real-life examples.
GLR: What advice do you have for those who want to become a dating and relationship coach?
AW: My advice for those who would like to become dating and relationship coaches is to practice active listening, and gain comprehensive training also helps.
GLR: How do you approach working with clients who have different needs and goals when it comes to dating? 
AW: When working with clients with different needs and dating goals, I approach each case with a tailored and empathetic approach, customizing my coaching strategies to suit their unique circumstances and desired outcomes. 
GLR: Thank you for taking the time to answer these questions, Angela!
Ready to embark on a journey towards fulfilling relationships? Reach out to Angela at this email address: [email protected]
---