GLR Spotlight is an interview series featuring Matchmakers, Dating Coaches & Relationship Experts

Global Love Report – October 25, 2023
Interviewed by Global Love Report
GLR Spotlight was created to feature some of our industry peers as a way for our community to get to know one another. Learn from what has worked successfully, as well as gain different perspectives and insights into various business strategies. We hope to continuously grow as an industry together by sharing these best practices with everyone!
---
About Genevieve Gresset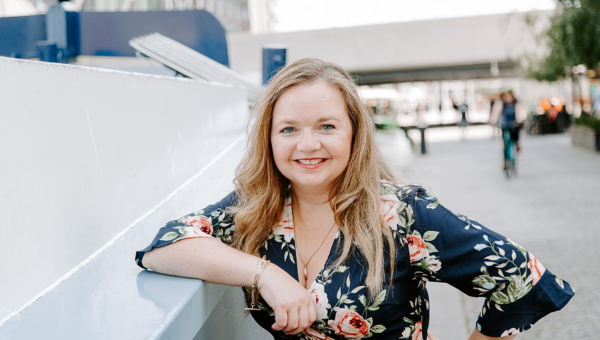 Genevieve Gresset is a Master Certified Matchmaker and Dating Coach. She has been coaching, mentoring, and matching single professionals around the world for over 30 years. Genevieve Gresset is also the VP of Brand Management, Business Development & Client Services at The Matchmaking Company. 

---
GLR Interview
Global Love Report (GLR): Could you tell us a little bit about which areas/locations you cover and about your client base
? 
Genevieve Gresset (GG): We are an every-person agency covering 40 states across the USA we work with both men and women over 30 years old and also work with coaching-only clients. 
GLR: What are the benefits of being both a Matchmaker and Dating Coach at the same time?
GG: All our coaches have been Matchmakers and now specialize in coaching and our Matchmaking team is certified by the Global Love Institute. 
I myself am both a Coach and Matchmaker and most of our management team in client services are skilled in both areas too. The main benefit is you can support your client throughout their whole journey.
GLR: What are some of the things that make being a Matchmaker and Dating Coach worthwhile in your opinion?
GG: In my 30+ years in the industry I feel working with a foot in each area of Matchmaking and Coaching means you have a different approach to client services and supporting your client on their journey.   
The experience you gain from working in both areas is so beneficial as when you are working with coaching clients you fully understand their matchmaking journey and vice versa.  Personally, I find I am far more patient and understanding having both areas of expertise under my belt. 
GLR: What are some of the challenges that you've had to face? And how did you handle them?
GG: Every day you have challenges when working with clients. You are working with people at their most vulnerable and most emotional. Nothing is more sensitive than supporting someone in their love life. 
I think the most challenging aspect is giving feedback that isn't positive when someone is hoping that the date will take them somewhere and they come back keen and enthusiastic but the other person does not want to see them again.  
I always look at the positives that come out of the date and the learnings that were had. We support our clients and always tell them dating is a learning journey.  
Even if someone doesn't want to meet again the feedback will help to build confidence and ensure the next date is more positive all around. It's always hard giving less positive feedback and some people take it to heart and feel disheartened. 
GLR: What do you think is your biggest strength as a Matchmaker and Dating Coach?
GG: I think my biggest strength is I have been doing this for so long there is very little I have not come across, so my experience and confidence is my biggest strength. I can read people well and I use my intuition which I trust implicitly and it rarely lets me down. 
GLR: Could you share with us some stories about your life as a Matchmaker? 
Genevieve Gresset (GG): My personal achievement was working on Married at First Sight UK 3 years ago and helping to redo the program to ensure they got at least 1 successful couple as they had never had success up to that point.  
COVID hit and we could only marry off 2 of the 4 couples but we still introduced off-camera to the other 2 couples. To this day, 3 years later 3 out of the 4 couples are still together.  
There are sooooo many stories, and it's hard to pick just one but this one stands out as they were all very different and equally lovely. 
One of my most fun matchmaking stories was working with 2 sisters and then their mother. Both sisters I go married off very happily and the Mother I helped her to start dating again and re-building her confidence.  
It was so rewarding working with all 3 of the women from the same family. We all met up for Lunch a few years later and it was heartwarming to watch how happy they all were. I've had the honor of working with so many people over the years who had given up on love and came to me as a last resort and seeing them find that confidence and embrace the dating journey was so special. We sometimes forget that it's the small things we do that make the most impact on someone's future relationships. It's something I never take for granted.
GLR: Do you collaborate regularly with other Matchmakers or Coaches?
GG: We are always working with other matchmakers and coaches to provide matches and refer clients as well as work with clients who have been referred to us as they can't afford to pay for other services and ours start at under $7000.
GLR: What do you think about collaborations in general?
GG: I think collaborations are great when there is a clear win/win for both parties. I think it becomes difficult when you see Matchmakers always asking for help with so many clients and using other agencies to fulfill their contracts.  
It is obvious and creates animosity amongst established Matchmakers. It is always important to build your own database and maintain it. I personally love collaborating and have built many lovely friendships in the industry by working in partnership and bringing couples together. 
GLR: What are your key strategies to advise other Matchmakers on expanding their services? 
GG: This is something I spoke about at the Conference in the UK a couple of weeks ago and the key areas are: Know your strengths and weaknesses and ensure you have a budget for expansion.  
Expansion isn't a cheap process. You have to have a clear goal to follow as well. Ideally, work with someone who understands expansion and can support you as a mentor/coach to challenge you on areas you haven't thought about or considered. Take baby steps and don't rush it.  
GLR: What is your favorite memory of a successful Coaching client? Do you have any success stories that you wish to share with us?
GG: One of my most memorable clients was a 50+-year-old female missionary who had decided to come out of her life dedicated to the church and wanted her first-ever relationship. 
It was the most incredible journey that we shared from taking someone who had never kissed a man to getting her married. The coaching was intense and she was incredible embracing every step of the way. We cried and laughed together so much that it became a personal goal to work with her until she was up the aisle saying her wedding vows with someone equally special and that day came last year. 
I don't think I cried as much with happiness when she sent her wedding photos to me and called me to cry together when we de-briefed on what an incredible journey she had taken. She's the only client I have ever cried with!
GLR: What are the lessons you have learned since you first started Coaching singles vs. now?
GG: My Coaching approach is constantly changing as I learn new tools and educate myself on newer practices. I think the most important thing as a coach is to constantly invest in your knowledge so you can support your clients better.  
Every year I learn new things and read and study. I am passionate about learning so love to hear how things are changing and evolving in the coaching world. Once I get these new tools under my belt and test them out, I love to share them with the team.   
My personal coaching approach is different for each client as each one has their own individual needs, hence you need more tools in your belt so you can better support a range and variety of needs.
GLR: Could you share some of your "Best Practices" tips for the people who are just starting out in the industry? 
GG: Write everything down keep good notes, ask questions, and trust your intuition. If you have a client who wants to work with you but you don't feel equipped or confident enough to work with them, then it is better to get a referral fee and pass them on to someone who can handle them than ruin your reputation.  
Don't bite off more than you can chew!!  In the beginning, I knew in my heart I shouldn't take on a client, and did, it was always more difficult than it needed to be. Trust me when I say follow your intuition. 
GLR: Do you have any words of advice for those who are new in the industry? 
Genevieve Gresset (GG): Listen and learn from others, be curious, and never think you know it all. After 30+ years I'm still learning and fascinated about this industry. Keep an open mind and never feel you can't ask for help.  
How amazing was the interview in this GLR Spotlight with Genevieve Gresset? Want to see other interviews? Read more Global Love Report Spotlight
here.
---