GLR Spotlight is an interview series featuring Matchmakers, Dating Coaches & Relationship Experts

Global Love Report – June 2, 2021
Interviewed by Adrina Ong
GLR Spotlight was created to feature some of our industry peers as a way for our community to get to know one another – Learn from what has worked successfully, as well as gain different perspectives and insights into various business strategies. We hope to continuously grow as an industry together by sharing these best practices with everyone!
---
About Trenia J Norford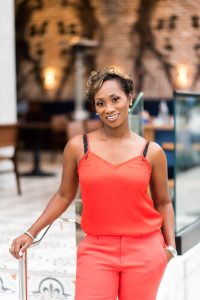 For as long as she can remember, Trenia Norford has been in love with love. Helping people find the own way to happiness has always been her passion. She is the owner of Connectricity, a highly professional and personalized boutique matchmaking firm. Since 2021, they have helped singles enjoy the dating process and get the results they desire in a short period of time. They cater to relationship-minded single professionals nationwide.
"When I'm not matchmaking, I'm taming my 6 and 10 year old little monsters Pierce and Peyton with my Ride or Die, Brad of 11 years, while scratching my 13 year old golden doodle, Archie's, belly."

---
GLR: Hi, Trenia! What is the name of your company?
Trenia J Norford (TJN): Connectricity LLC
GLR: Could you tell us more about your niche market?
TJN: I help busy professional singles between the ages of 35-55 enjoy the dating process and get the results they desire in a short period of time.
GLR: What's the one thing you're looking forward to as a certified Matchmaker?
TJN: Over the years , I've made really nice friendships through various business collaborations. Which is one of my favorite parts of the profession.
GLR: What was your career before becoming a matchmaker?
TJN: I had a 20 year corporate career. Starting in the publishing industry(working for major fashion trade consumer publications – (W and Fortune Magazines) and later transitioned into finance, working as Senior Relationship Manager for Citigroup, JP Morgan and later HSBC.
GLR: Finally, what was your favorite part of the online Matchmaker Certification course?
TJN: I took this course 9 years ago – however I remember how much I loved meeting newly certified matchmakers and hearing their unique stories.
GLR: Thank you, Trenia!
---