GLR Spotlight is an interview series featuring Matchmakers, Dating Coaches & Relationship Experts

Global Love Report – December 7, 2022
Interviewed by Global Love Report
GLR Spotlight was created to feature some of our industry peers as a way for our community to get to know one another – Learn from what has worked successfully, as well as gain different perspectives and insights into various business strategies. We hope to continuously grow as an industry together by sharing these best practices with everyone!
---
About Eiléen Lee-Connor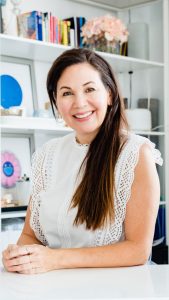 Eiléen Lee-Connor is the Founder of Dubai Matchmaker, an exclusive matchmaking service based in Dubai, United Arab Emirates. She has spent more than 15 years living and working in Dubai; helping clients with their business expansion plans and their marketing.
She first worked as a global scout for a matchmaking agency before she established her very own matchmaking company that focuses on finding long-term partners for expats.

---
Global Love Report (GLR): What was your career before entering the matchmaking industry?
Eiléen Lee-Connor (ELC): I've been based in Dubai since 2007 (from NY/ London/ Paris/ Seoul) as a serial entrepreneur, marketing consultant, beauty expert and now one of the first certified matchmakers and date coaches here curating connections for age 35+ single men and women in the UAE (and around the world).
While I was mainly dedicated to personal branding, thought leadership, and strategic business partnerships as a marketer, the pandemic has really highlighted how important human relationships are to mental/ physical health and overall happiness. Dubai is brilliant at embracing business and innovation as the 'City of the Future', however DubaiMatchmaker.com is focused on helping to build meaningful lasting personal relationships as an alternative to apps and a safer, more personalized or intuitive approach to introductions.
GLR: Why did you decide to become a matchmaker?
ELC: Actually, I have been matchmaking all my life for friends and family due to my passion for research, sharing advice and tips, as well as obsessing about love stories at all ages and stages in life.
With the recent changes in Dubai's local regulations, I felt it was finally time to bring this much needed traditional service to all the lonely expats living here. I had already been a regional scout for an elite matchmaking agency based in London and NY for about 6 years and my long journey with relationships, marriage, single parenting, and divorce have given me tremendous empathy and understanding of how or why people find themselves here alone and ready for lasting love.
It just made perfect sense to turn my long history of life lessons and transitions into a game plan that others can benefit from as well.
GLR: Did your perception of what a matchmaker is/does change after being certified?
ELC: My basic idea of matchmaking has only been strengthened since learning the endless intricacies of relationships and behavioral trends from the Global Love Institute's mentors as well as from all the students who call in weekly from all over the world.
Throughout the course, our passionate group has been incredibly supportive sharing regional or cultural sensitivities and problem solving a variety of concerns including how to be a solo entrepreneur, disseminating best practices for business set-up, database automation or marketing, brainstorming scenarios to better match difficult clients, and a host of other invaluable behind-the-scenes information that will lead to our eventual success as a matchmaker or date coach.
GLR: What are you looking forward to as a matchmaker?
ELC: It sounds trite, but it's not only intoxicating but addictive helping our community identify a lifetime of subconscious patterns that may have been holding them back from genuinely connecting with a soul mate.
I never feel more alive than witnessing a client light up when they meet that person who might indelibly change both their lives. This is my happy place and what I have been training for my entire life, whether I realized it or not!
GLR: Which cities or region do you cover?
ELC: While I am focused on building my confidential singles database in Dubai and the region, I have also partnered with a number of seasoned matchmakers around the world. This allows me to not only continue to help my transient expat clientele even when they move on, but to take on and match new clients anywhere in the world!
GLR: Have you met any other matchmakers? If so, how has that experience been? Are you open for collaboration in the future?
ELC: I love meeting other matchmakers! The collaborative nature of this industry is one of my favorite aspects of being a matchmaker. It takes two to make a perfect match so if I am holding the key to someone's happiness in my database, it makes sense for me to help another matchmaker create that all important spark for both our clients!
I hope to attend some of the Global Love conferences in person very soon once my business gets off the ground. We are always learning from one another so absolutely reach out if you would like to partner or collaborate with me.
GLR: Do you have any words of advice for people who are still considering if they want to be a matchmaker or not?
ELC: If you are inclined and curious about matchmaking and are an outgoing people person, I would definitely recommend going through the certification course.
Everyone should take a class on learning how to date so the insights and procedures this course exposes to you are not only invaluable to your own relationships at any stage, but it will allow you to recognize familiar patterns and solutions for countless friends and family. Not only will it make you the most popular person in any room due to the nature of discussing love and loss, it's also the type of education that you can continue to build upon as you navigate society wherever you end up in the world!
GLR: Thank you so much for your time, Eiléen!
---