GLR Spotlight is an interview series featuring Matchmakers, Dating Coaches & Relationship Experts

Global Love Report – September 22, 2021
Interviewed by Pamela Stephanie
GLR Spotlight was created to feature some of our industry peers as a way for our community to get to know one another – Learn from what has worked successfully, as well as gain different perspectives and insights into various business strategies. We hope to continuously grow as an industry together by sharing these best practices with everyone!
---
About Hank Saing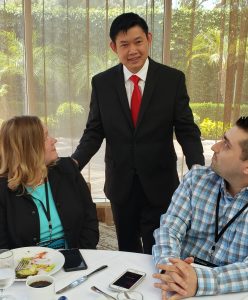 Hank Saing is a recently Certified Matchmaker and the founder of WeMatchVIP, a Matchmaking agency focused Cambodian clients who are looking for their match.

---
Global Love Report (GLR): Hello, Hank! Could you tell us a little bit about yourself?
Hank Saing (HS): My name is Hank Saing. I am the founder of WeMatchVIP, a boutique matchmaking company in Cambodia.
GLR: What is your company's niche?
HS: Cambodian singles (male and female) who are looking for an overseas fiancé or spouse so that they could move to live there.
GLR: What was your career before becoming a Matchmaker?
HS: I was working in the East Coast in project management field.
GLR: How did you end up in the Matchmaking industry?
HS: When I visited my hometown Cambodia at the end of 2020, I wanted to do something here. I found out that there is no international matchmaking ([between] Cambodia and western countries) here. This led me to MMI.
GLR: What was your favorite part of the online Matchmaker Certification course?
HS: I guess it is the online recordings that go all the way back to 2016.
GLR: Thank you for your time, Hank!
---