GLR Spotlight is an interview series featuring Matchmakers, Dating Coaches & Relationship Experts

Global Love Report – December 21, 2022
Interviewed by Global Love Report
GLR Spotlight was created to feature some of our industry peers as a way for our community to get to know one another – Learn from what has worked successfully, as well as gain different perspectives and insights into various business strategies. We hope to continuously grow as an industry together by sharing these best practices with everyone!
---
About Jason Wong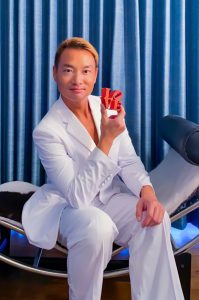 Jason Wong is a newly-certified matchmaker and relationship coach and owner of Quest for Two. Prior to entering the matchmaking industry, he worked in real estate for almost 20 years, where he met with global clients and investors in order to sell properties in Canada and the US.
He encountered different types of people in his social and professional life and noted that there's a growing a population of single, recently-divorced, or widowed individuals. These people have a successful career but aren't as successful with love. This eventually led him to join the dating industry.

---
Global Love Report (GLR): Hi Jason! What was your career before entering the matchmaking industry?
Jason Wong (JW): I have been an award-winning real estate top producer for almost 20 years by marketing real estate properties in Canada and USA to global clients and investors. In the parallel universe, I have been doing properties-matching among buyers and sellers since I have obtained my Master of Business Administration degree in negotiation and human resource management in the UK in 2002.
GLR: So what made you decide to become a matchmaker and a dating coach?
JW: In both professional and personal circles I have a lot of great friends and newly known acquaintances who have found massive success in business and career building, yet their romance and love life is filled with void or superficial beliefs.
I always believe that in the vast universe that we are living in, there will be someone available for those who are seeking genuine companionship and love. Believing in love drives me to become a matchmaker.
Due to my real estate business I was privileged to be exposed to diverse cultures, demographics, full spectrum of human beliefs and behavior; I have been critical on my path of becoming a matchmaker more than anyone in my sphere of influence.
I excelled in all science-based subjects in school, and I have applied theories, methodologies, and models to solve real life problems.
Yet, people said, love is blind, there is only partial truth in that after going through the [certification] program – with careful planning and coaching, a client can increase the chance of success in finding the right person with good will and grace.
GLR: What are you looking forward to in your new career as a matchmaker and dating coach?
JW:I am looking forward to helping people find love and making people believe in finding true love is a quest that takes two parties.
I do not expect I am able to help every single person in the world, but I would like to be the cheerleader for love in all public domains. [And] about [how] there will be always a 50/50 chance of finding love regardless age, sex, demographics–as long as one is determined to well-hone one's belief in finding that special someone.
GLR: So where is your company based in?
JW: I have been calling Honolulu, Hawaii my home for the last 14 years. I would love to work in my Hawaii marketplace to help single people find love.
GLR: Have you met any other matchmakers?
JW: I attended the London Love Conference 2022. It was an eye-opening experience to speak with various seasoned matchmakers and dating coaches in real life. I have got to learn about different business models and some cautionary tales about the difficulty and challenges in day-to-day operation. I also enjoyed the seminars and small breakout sessions led by experts on numerous topics. All attendees learned so much from and among their peers. We all went home with tons of new knowledge and trend reports.
GLR: Are you open for collaboration?
JW: I am certainly open to collaborate with other certified matchmakers to help our clients to find love boundary-free.
GLR: Any words of advice for people who are still considering if they want to be a matchmaker or not?
JW: Almost all of the successful matchmakers that I have spoken to during London conference  came [from] distinguished professional careers prior to launching their matchmaking business.
I do believe, it helps to propel your matchmaking operation if you set aside some cash reserve when you are starting your new profession by taking the time to sign-up "quality" clients. In any service industry, clients can sense desperation if one needs the money to make ends meet. Remember, quality is always above quantity in this highly personalized business.
GLR: Thank you so much for your time, Jason! And good luck with your new business!
---