GLR Spotlight is an interview series featuring Matchmakers, Dating Coaches & Relationship Experts

Global Love Report – May 10, 2023
Interviewed by Global Love Report
GLR Spotlight was created to feature some of our industry peers as a way for our community to get to know one another – Learn from what has worked successfully, as well as gain different perspectives and insights into various business strategies. We hope to continuously grow as an industry together by sharing these best practices with everyone!
---
About Joan Paiement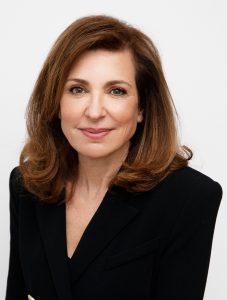 Joan Paiement is a Matchmaker, Life Coach, Business Coach, and Relationship Coach, as well as the President of Intermezzo Montreal.
Intermezzo Montreal was founded in 1996 and has the largest network of single professionals in Quebec.

---
Global Love Report (GLR): Hi Joan, thank you for taking the time to answer our questions! Could you tell us a bit about your career before you entered the matchmaking industry?
Joan Paiement (JP): I was Chief Financial Officer and General Manager of the Montreal Stock Exchange. I worked there for 20 years and when I retired, I was convinced that I would never work again as nothing could be more exciting than the Stock Exchange. I retired to become a full-time mom.
GLR: Why did you decide to become a matchmaker?
JP: I had stopped working and went out to dinner with a friend of mine who was recently separated. She wanted to meet someone new and was asking me if I had any solutions. At that time I didn't.
The next morning she sent me a link to Intermezzo.ca. It was a dating agency. I looked it up and I saw that they were hiring; I said to myself, "I have free time so I'll apply, go in, and find her a boyfriend!" I said to myself that I would quit afterwards.
But I did not quit.
I loved being a matchmaker. I eventually bought the company. It's been 12 years and I love every single day at the office.
GLR: What are some of the things that make being a matchmaker worthwhile in your opinion?
JP: Of course, the biggest reward is when we form happy couples. When they send us baby pictures, it's pure pleasure and the sense of a job well done.
GLR: What are some of the challenges that you've had to face and how did you handle them?
JP: As much as we love our clients, they are the source of many challenges. Some are difficult, some overrate themselves, some don't behave properly and the list goes on.
We have to handle them with care, build their trust and then try to coach them in the right direction.
GLR: What makes you different from others in the industry?
JP: Being in Montreal, we have to deal with 2 different clienteles. The Anglos and the Francos.
They don't have much in common, so it's important for us to be well versed in the customs and expectations of every one. We are a group of 7 in one office which makes us the most important agency in the Province of Quebec.
Interestingly, many Americans like Montreal women and their flair for fashion; they become our customers and we've happily matched many of them.
GLR: What do you think is your biggest strength as a Matchmaker?
JP: The love of my job and the experience that I had at the Stock Exchange. I'm tough when I have to be and I'm a problem solver.
GLR: Have you collaborated with other matchmakers?
JP: We've collaborated with many matchmakers but only in one way. We have never asked for help (because we have a big database) but we are approached for help quite often. It's always a pleasure for us to collaborate, and it's an advantage for our clients.
GLR: Lastly, do you have any words of advice for people who are new in the industry?
JP: Stay calm and carry on. Nothing is easy, you have to work for it.
GLR: Thank you so much, Joan!
---