GLR Spotlight is an interview series featuring Matchmakers, Dating Coaches & Relationship Experts

Global Love Report – February 23, 2022
Interviewed by Global Love Report
GLR Spotlight was created to feature some of our industry peers as a way for our community to get to know one another – Learn from what has worked successfully, as well as gain different perspectives and insights into various business strategies. We hope to continuously grow as an industry together by sharing these best practices with everyone!
---
About Jodi-Ann Salters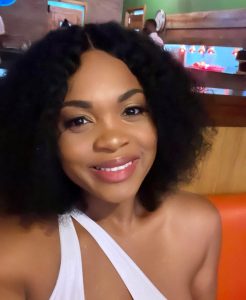 Jodi-Ann Salters is a proud wife and mother of 3 beautiful children and CEO of Miss Match LLC. She's currently residing in Atlanta, Georgia.
She has experienced all that dating has to offer—both the good and the bad—and has developed the skills necessary to navigate the difficulties that arise when dating.
Jodi-Ann learned over time to communicate her needs and found a partner who shares the same values. Through the dating process and choosing her husband she has also learned tools necessary to find the correct match and build healthy and sustainable relationships through honesty, effective communication, and empathy.
Over the past 11 years she has been a leadership and management professional which enables her to assess people's behaviors to help them identify relationship goals. She provides them with the tools necessary to meet the goals.

---
Global Love Report (GLR): Hello Jodi-Ann, thank you for taking the time to answer our questions! Could you tell us about what your career was before entering the matchmaking industry?
Jodi-Ann Salters (JAS): Before entering the matchmaking industry, I was a HR Director in the retail industry. Similar to matchmaking I was responsible for hiring, talent assessment, and making sure potential hires were a good fit for the company and the needs of the company. I found joy in listening to employees and help to discover solutions to their problems.
However, working in the retail industry consumed most of the hours in my day and I needed some of the time back for my family. I went to therapy and in my second session my therapist told me two things that stuck with me.
He said you are creative, and you are like a caged bird who needs to be freed. If the things you do robs you from your creativity, then you are not truly living.
At the time I was setting my friends up on dates, planning to attend a few weddings, and was having a lot if conversations about dating and relationships. I was eager to know more.
I started branding myself as a match maker without knowing the depths of the industry. Soon I began hosting speed dating events, singles mixers, putting together my team, committed to the online matchmaking certification with the Global Love institute, and began recruiting singles.
I quit my job because I needed to be free.
Since leaving my career, I have been a full-time matchmaker with my company Miss Match LLC.
My friends and family have been a tremendous support system. Especially my husband. I get choked up when I think about it. I have inspired others to take a chance on themselves and pursue happiness. I accept that life is not perfect and nothing will be handed to me and I'm prepared to do the work.
GLR: Why did you decide to become a matchmaker?
JAS: Why not a matchmaker? This is the most fun I have had working. I have always loved love and love stories. I envisioned my husband and children before I met them. I knew the man that I would marry and the lifestyle we would live. I know it's possible. I want to be a part of the process for others. I want to simplify the dating process for others.
My friends also inspired me and I want to see them happy. Whenever they had a dating question, they would call me. Of course they listen more now since I'm a professional matchmaker. I know so many great single people who just haven't met their match. As a matchmaker, I have access to "the one".
I would have been great at doing anything else in life because I'm a hard worker, I'm passionate about people, my personality attracts people, and bringing joy to others brings me joy. However, being a matchmaker is the perfect fit.
GLR: Did your perception of what a matchmaker is/does change after being certified?
JAS: My perception of what a matchmaker does did not changed. I saw it as an opportunity to assist others on their dating journey while finding the match they can't find in their everyday life.
I give them the luxury of enjoying life and focusing on themselves while I take on the pressure of what is the biggest decision of their life. However, one thing I was happy to learn is how much collaboration exists within the industry.
GLR: What are you looking forward to as a matchmaker?
JAs: I am looking forward to helping in the creation of healthier, thriving, sustainable relationships. I look forward to attending weddings as the person who introduced the "happy couple." I would love to see more love stories.
GLR: What cities/states/locations do you cover?
JAS: I cover Atlanta and metro Atlanta, Georgia.
GLR: Have you met any other matchmakers? Are you open for collaboration in the future?
JAS: I had not met a matchmaker before embarking on this journey. This experience has been wonderful. Everyone was very eager to assist which made the process fun and rewarding. I love collaborating and I am open, ready, and excited to collaborate with other matchmakers both now and in the future.
GLR: Do you have any words of advice for people who are still considering if they want to be a matchmaker or not?
JAS: If you love love, you love people, and love seeing people happy, then this is a career path worth exploring.
There are so many people out there looking for love in all the wrong places and have no idea where to begin. We need matchmakers to help navigate the dating world and support people on their life journey.
GLR: Thank you so much for your time, Jodi-Ann!
---