GLR Spotlight is an interview series featuring Matchmakers, Dating Coaches & Relationship Experts

Global Love Report – July 21, 2021
Interviewed by Adrina Ong
GLR Spotlight was created to feature some of our industry peers as a way for our community to get to know one another – Learn from what has worked successfully, as well as gain different perspectives and insights into various business strategies. We hope to continuously grow as an industry together by sharing these best practices with everyone!
---
About Karina Datashvili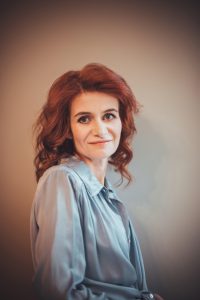 Karina Datashvili is the Senior Matchmaker and Dating and Relationship Coach at Simantov International matchmaking agency.
Karina was previously the Executive Director of the Holocaust Museum before she decided to try out matchmaking with Simantov International, at the behest of the agency's founder.
After trying it out part-time, she then decided to become a matchmaker full time.

---
GLR: Hello, Karina! Thank you for taking the time to answer a few questions for us! Could you tell us a little about yourself and the agency you're working for?
Karina Datashvili (KD): I am the Senior Matchmaker and Dating and relationship coach at Simantov-International. It was established in 1975 and provides matchmaking and relationship coaching service to Jewish Singles worldwide.
At Simantov International, there are no matchmaking algorithms; it's all done the old-fashioned way — getting to know clients and pairing compatible people with each other. Not everyone who applies to be matched by Simantov is accepted as a client.
Due to the nature of its service, Simantov International is selective, which ensures success for clients. Simantov's main goal is to help open-minded, single Jewish professionals find the right person who can help them pass on their long-held traditions and beliefs.
I think that the two most popular questions to be asked within the first conversation are: "Are you Jewish?" and "Are you married?"
Both my answers – yes.
Regardless of religiosity, for non-Jewish people, it is challenging to talk about things like Shabbat, kashrut, Yom Kipur, etc. I understand why it is essential for our clients that their matchmaker has the same values.
About being married, I usually joke that "I would not dare to help you if I can't help myself". Meanwhile, I understand that it is not a requirement, but this makes some connection in the beginning.
GLR: What led you to feel that you wanted to pursue a career in helping singles?
KD: It was not planned; I started working five years ago just like a client manager, who is scheduling calls, sending mails and verifying documents.
In the beginning, I combined this work with my main job as an executive director of the Holocaust Museum. It was an excellent way to recover from the sad things connected to my main job.
I did it until the owner of Simantov International out found that I have 17 years of experience in HR and head-hunting and offered to let me try my hand at matchmaking.
I was surrounded by professionals who supported me at every step. It was a significant decision.
I was unsure until I started to have some success stories, then I had the confidence to make matchmaking my only job.
While working as a matchmaker, I studied at the Matchmaking Institute and was officially certified as a matchmaker and dating and relationship coach.
I am not going to stop studying so that I can be more successful and sensitive at my job.
The best part of our profession is happy feedbacks, for sure. I have no children of my own but I am responsible for at least five amazing babies born because of my job.
Now, being a matchmaker, I understand that it is not enough just to make the introduction. I believe that I need to help my clients not to disrupt everything after just one conversation – it's the reason why they need coaching. I used to collaborate with amazing coaches from our industry but some clients feel more comfortable when they are working with one person, not with many.
GLR: Do you have any unique stories about working in this industry?
KD: There was a fantastic client, who was already an Agency client when I started working. At some stage of his membership, he made a special agreement with the Managing Director about a very intensive process which included three unique introductions every week.
Besides that, he wanted to communicate only with the Managing director, who had to do plenty of other things for other clients and for the agency. I was responsible for the search and selection and interviewing for him. Every week I needed to interview 30 ladies to select just three along with my other duties.
Meanwhile, he didn't know about my job because he decided to be contacted and served only with Managing Director, so all my efforts were from the "underground", behind the scenes.
I still admire how he could remember all of the beautiful ladies he was introduced to and not mix them up. Being a German, he was orderly about everything – regarding matchmaking, he had an Excel file where he had a report about every lady.
For me, it was the craziest time and a colossal pressure. He changed his requirements every week, and I was sure that I would die before we could match him. Finally, he was matched.
As a client, he received 84 introductions. And the funniest thing – that he was matched with a lady who had just joined the agency and this was the first introduction for her—and it became a match. So, 84 steps for one side and just 1 for the other to create this couple.
But it was at this point that I decided that I would never ever agree to participate in this kind of "marathon" again. It was great learning experience for me. I am happy that now I am allowed to decide what kind of contract to offer to the client and to find a way to cooperate that is best for both the client and our team.
GLR: Do you have any words of encouragement or reminders for existing Matchmakers/Dating Coaches & newcomers?
KD: We have a beautiful job. There can't be any standard rules and guidelines that work for everyone because every client is unique. Just be aware that we can't help everyone, and in most cases, it's not our fault.
Our willingness to help, our efforts, and good intentions may not be enough; we can't push people to feel happy and act according to our scenarios. Everything we can – it's to be honest with ourselves first and not to take clients without believing in success.
And one more significant thing for me – not to stop learning from the professionals in the industry. It is impossible to know everything, but it's possible to aim to make the best version of ourselves at any point in our lives, including our profession.
GLR: What was your favorite part of the online Science-Based Coaching course?
KD: My most favorite part were the online meetings with Dr. Terri Orbuch; the possibility to ask questions and to get support and answers, to feel the real interest and empathy.
GD: Thank you for your time, Karina!
---