GLR Spotlight is an interview series featuring Matchmakers, Dating Coaches & Relationship Experts

Global Love Report – June 23, 2021
Interviewed by Adrina Ong
GLR Spotlight was created to feature some of our industry peers as a way for our community to get to know one another – Learn from what has worked successfully, as well as gain different perspectives and insights into various business strategies. We hope to continuously grow as an industry together by sharing these best practices with everyone!
---
About Nadine Jimenez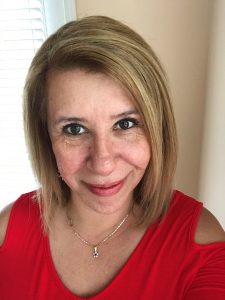 Meet Nadine Jimenez, who is one of our newly certified matchmakers!
Nadine used to work in Supply Chains before she decided to change careers and begin her journey as a matchmaker by establishing her company, Sparking Match. Read more about Nadine in our interview with her!

---
GLR: Hi, Nadine! Thank you for taking the time to do this interview! What is your company, Sparking Match's niche market?
Nadine Jimenez (NJ): Expats.
GLR: What's the one thing you're looking forward to as a new certified Matchmaker?
NJ: Looking forward to helping people find love and bringing more joy to the world.
GLR: What was your career before and why did you choose to change the industry?
NJ: My career has been in Supply Chain and I am choosing to join this industry because I'm passionate about love and joy.
GLR: Lastly, what was your favorite part of the online Matchmaker Certification course?
NJ: I loved the part about building your brand because it gave me a chance for introspection and creativity
GLR: Thank you for your time, Nadine!
---