GLR Spotlight is an interview series featuring Matchmakers, Dating Coaches & Relationship Experts

Global Love Report – August 24, 2022
Interviewed by Global Love Report
GLR Spotlight was created to feature some of our industry peers as a way for our community to get to know one another – Learn from what has worked successfully, as well as gain different perspectives and insights into various business strategies. We hope to continuously grow as an industry together by sharing these best practices with everyone!
---
About Violet Lim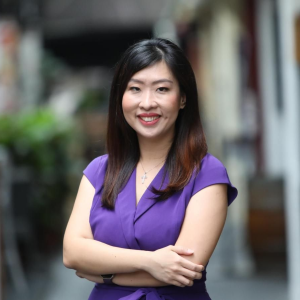 Violet Lim is the CEO and Co-Founder of Lunch Actually Group, Asia's biggest lunch dating company, with offices in Singapore, Hong Kong, Malaysia, Indonesia, and Thailand.
She founded the company back in 2004 with then fiancé, Jamie Lee. Now, the company has successfully arranged more than 150,000 dates and brought together more than 4,000 successful and married couples.
Violet is the first Asian to be certified by the Matchmaking Institute in New York City, and today, she is an acknowledged expert in her field. She has appeared in over 4,500 media coverages. She is a sought-after speaker and has spoken in many conferences, including TEDxNTU in Singapore, Asian Women in Leadership Summit, Global Dating Insights Summit in New York and more.

---
GLR: Hello Violet, what was your career before entering the matchmaking industry?
Violet Lim (VL): My first job was with Citigroup Singapore as a Management Associate, and that was where I first got the inspiration of starting a dating agency, as I had so many single colleagues!
GLR: Why did you decide to become a matchmaker?
VL: As a MA at Citigroup Singapore, I get to work in many different departments and meet many people. I observed that many of my colleagues were single and not dating. That was rather puzzling for me as they were attractive and eligible people. I soon realized that it is because they were working really long hours, they were virtually married to the bank.
When I came across the concept of lunch dating, I was immediately attracted to the idea because I felt that lunch was 'short, sweet and simple' – it is long enough for you to get to know someone, yet it was not too long that it would become awkward. Having always been passionate about helping people, I decided to quit my job at the bank and start a new career as a modern-day matchmaker.
GLR: What are some of the things that make being a matchmaker worthwhile in your opinion?
VL: I started Lunch Actually, because it's a business that helps singles find love and happiness. For me, being a matchmaker is worthwhile because the business is not just about making money, but helping to make a difference in people's lives by helping them find their life-long happiness. The business is also very unique since it not only impacts one person's life but also generations to come.
GLR: What are some of the challenges that you've had to face and how did you handle them?
VL: I think the most recent one I can share was how we quickly had to transform due to the pandemic.
In the past 18 years, we always conduct 1-1 consultation with our potential clients and coaching sessions with our clients in our office. We also arrange the dates for them in restaurants/cafes that they prefer. However, when the pandemic began to hit the countries where we operate, various regulations for social distancing were enforced and followed by the closure of offices and restaurants, and therefore, we had to transform the way we serve our clients and moved our services to virtual.
Due to these measures that were imposed, it has forced us to pivot as a company. It has always been my personal belief that even in the darkest of times, there are always silver linings. During these times, we successfully moved all our services to virtual. Our team is working from home, serving our singles virtually through virtual consultations, coaching and arranging virtual dates and virtual speed dating events. We also managed to launch our series of monthly webinars where we brought in different speakers (external and internal) to share about various self-improvements and dating topics with more than 700 participants!
The response of virtual dates has been positive, and more singles are definitely getting more open and receptive towards the idea. In fact, because most of us are staying home, singles actually have more time to invest in their personal development, whether it's to trying new recipes, exercising more, learning new skills, and in dating, also meeting more people through virtual dates. It's a new and fun experience for them, and at the same time, they're still making progress in their love life to achieve their goals.
In our 2020 Annual Singles Dating Survey, over half of singles agreed that virtual dating is a good alternative and they believe it's going to be the future of dating!
GLR: Could you share with us some stories about your life as a matchmaker?
VL: One of the most memorable matches for me is our first couple who got engaged.
Chris is a lawyer. When we first matched her up with Ben, she was furious. She didn't understand why we would have matched her up with Ben who is an entertainer (juggling, unicycling etc.) As we have met up with both of them, we realized that they are very compatible, have many similar values as well as share a similar sense of humor.
Furthermore, Ben is actually very well-educated, having a Masters from Oxford. After much persuasion from our dating consultants, Chris reluctantly went on the date. In their own words, they got on like house and fire, and they got engaged within 3 months, and married within 1 year. They now are proud parents to two beautiful daughters.
We are very proud of this match as both of them would probably not have crossed paths if they had not met at Lunch Actually. And to cynics out there who might say that dating services take the romance out of dating… Ben said, "Love is love, no matter if you have met at a bus stop, a bar or a dating service!" 🙂
GLR: That's truly a great successful couple story! Thank you for sharing that with us! Do you have any words of advice for people who are new in the industry?
VL: If your sole objective is to make money, I will suggest that you try out other industries as there are many other ways (and sometimes easier ways) to make money.
If you are joining the dating industry, you need to have a burning passion to help singles find love, as there will be times when you wonder why you are here especially after being screamed at by an upset client. At the same time, this is probably one of if not the most rewarding professions you can have – not just changing one person's life but transforming generations to come.
While you are starting out, remember to not just work in the business (i.e. the day to day operations) but also on the business (the strategy and the business development). Take time to learn, surround yourself with like-minded matchmakers like the community that we have built here at Global Love Institute (GLI). Investing in the matchmaking certification from the then Matchmaking Institute (now GLI) is one of the best business decisions I made.
GLR: And lastly, could you share some of your "best practices" tips for the people who are just starting out in the industry?
VL: I would encourage those who just started the industry to open up and share with one another. The number one thing business leaders need to know is: don't be too shy to ask.
A lot of people, when they go into business, would feel like they need to do everything on their own. But the truth is that, there are a lot of people who have walked the same paths and gone through the same trials and errors, and if you would just ask for advice, help, or guidance, you'd be surprised that a lot of them are actually more than willing to share their experiences.
So, you don't have to go through what they have gone through and make the mistakes they have made.
GLR: Thank you for your time, Violet!
---