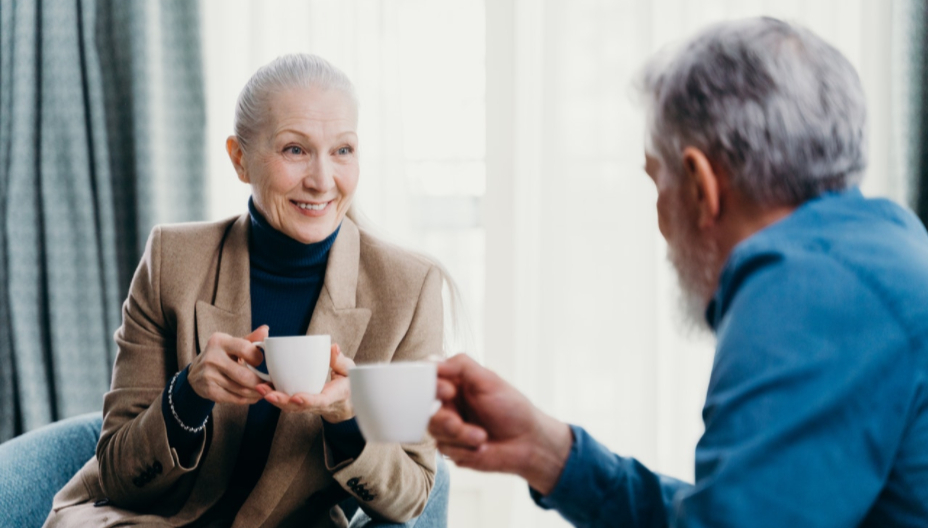 Global Love Report – June 23, 2021
A translated article by Pamela Stephanie
---
Older people who have been vaccinated against corona can finally go out again after a year of lockdowns. On this sunny afternoon, ten men and eight women in Achterhoek immediately get serious: they're going to speed date.
He's a bit early. In a crisp white polo ("I put this in the wash yesterday"), Arie Vels is waiting at a table of an establishment in the outskirts of Borculo. On this sunny afternoon, the 72-year-old from Doetinchem, after a year of restrictions and lockdowns, is going speed dating for the first time in his life.
Pretty exciting, you would think, but Vels stays calm. He has already dated one-on-one, via the internet, says Vels, who has been a widower for five and a half years. "But that was all nothing," he says in the Achterhoek. A few years ago, he was rejected by someone who was looking for a hiking buddy[1]. "Back then I had a limp." But that is no longer a problem, says Vels. "I had surgery so now I can walk without problems again."
Dark red tablecloths
Under a few trees, where a slope runs in the grass, Getty Schepers from the Dating Oost agency, which specializes in matchmaking for seniors, prepares the final touches for the speed dating session. Now that most seniors have received their corona vaccinations, she can organize events worry-free for the first time in a year. Ten neatly laid tables are ready, the dark red tablecloths move gently in the wind.
Vels looks at the pastoral setting with satisfaction. Last year, there was not much dating due to corona, he says. "Well, where could you even meet? To invite someone to the couch right away, that's a bit too much. This is neutral territory. And now I also don't have to serve coffee myself."
Grumpy
He is looking for a cheerful type, but that is not so easy to find among older women, says Vels. Well, he has to admit that this is also valid for older men. "That's why. I'm already grumpy myself."
When all participants have arrived, Gerry Schepers rings a fire-red hand bell with the words "love time" on it. The first round starts. From now on, all the men and women have ten minutes to get to know each other. Here and there, a somewhat stiff elbow greeting is exchanged.
"It makes my skin crawl"
One of the couples immediately leans back, relaxed, in the chairs. He, the 73-year-old Tom de Rijke from Doetinchem, is drinking a white beer, she, the 74-year-old Anke Wagemaker from Zutphen, in a witty way steers the conversation within a minute to sensitive topics like religion and politics. ""You have to know that some people evoke strong feelings in me," she says, as if she's unfolding an important part of her user manual. "Mark Rutte, for example: that makes my skin crawl."
He makes a sour face, and says, "Too bad." Wagemaker looks at him, unfazed. "Yeah," she says. But then De Rijke begins to laugh—just kidding, he says. "I feel the same way." They sound equally happy in their unanimity.
Playful shoulders
A few meters away, Arie Vels came to the table with Anka Smit (75) from Winterswijk. With them, it's over safe themes such as each other's children, a common acquaintance, and the question of where a certain mill is located on the Ijssel River. Smit occasionally moves her shoulders playfully while she's speaking. And while Vels first sat with his arms folded, he begins to lean a little more forward as the conversation progressed.
After ten minutes has lapsed, Smit says that, especially after this corona year, she would like to be with someone again. "Then we can go out and travel together. Or [go on] a long bike ride, that's up high on my list, but you don't just do something like that alone as a woman." She found this afternoon very successful, she says. "Finally, I could have a day out again."
Follow-up Appointment
And the conversation with Vels? "It was very pleasant," she laughs. Whether the two have a match will be clear in a week, when Dating Oost has processed all the data. Vels has just handed in the form on which he has filled which of the ten women he wants to have a follow-up appointment with.
Compared to earlier in the afternoon, his mustache seems to hang down a little less, and he now laughs with happy wrinkles around his eyes. Still, his grumpiness has not completely disappeared after all that female company. "There was only one pleasant one," he says, half-grumbling.
---
[1] Wandelmaatjes or hiking buddies are quite common in the Netherlands and Belgium. It's someone who can go with you on hikes or any type of outdoor activity. For older people, it can also be someone who can help them if they have mobility issues.
To read the original article (in Dutch) about speed dating for the elderly, please click here.
Original article written by Trouw.
---
(Image source: Pexels, Cottonbro)